Tweets from https://twitter.com/LittlefishFX/lists/lfx-accounts
12.30 (GMT) Institutional Perspectives
BNP Paribas expects the ECB to extend its QE program. Rolling out the formal
target end date from March 2017 to September 2017 & changes to the program
parameters — perhaps raising the issue limit for non-CAC bonds, removing the
deposit rate floor or changing the method for allocating purchases across
sovereigns. BNPP do not expect a cut in the ECB's deposit rate.
Commerzbank expects the ECB to extend its bond purchases beyond March 2017
today and adds it is likely the ECB will also adjust the technical parameters so
as to expand the pool of bonds that can be purchased. "That may well be of some
significance for the bond market, but is of rather secondary importance for the
FX market," said Commerzbank.
12.20 (GMT) Institutional Perspectives
BAML expecst the ECB to commit to QE beyond Mar-17, but without a detailed
discussion of how any bond scarcity would be addressed.
Nomura thinks the ECB will find ways to demonstrate that the PSPP is not
bounded by the March 2017 horizon, but has room to go beyond. "It also needs to
encourage bank lending & counter currency's appreciation – this is why we see a
fair chance (40%) of a deposit rate cut in Sept, if not in Dec", added Nomura.
12.00 (GMT) Institutional Perspectives
Citi expects extension of asset purchases for at least six months; expects
10bp cut in Refi rate to -0.1%, ahead of a 10bp cut in the deposit rate to -0.5%
in March 2017; On PSPP parameters, Citi's baseline of lifting the 33% limit on
non-CAC bonds to 50%.
Goldman Sachs do not forecast change in policy rates, but expect the Asset Purchase
Programme to be extended to end-2017, and allocation of purchases of sovereign
debt to be shifted away from the ECB's capital key.
11.40 (GMT) Expectations Ahead of The Meeting 
With data having remained resilient in the wake of Brexit and the Fed starting to sound more Hawkish it appears likely that the ECB will opt to remain in "wait and see mode" at this juncture and probably employ verbal easing over any actual policy adjustments.
Institutional forecasts are mixed with some banks expecting the bank to announce an extension of the QE programme, some expecting a further rate cut and some expecting no action at all. Positioning ahead of the meeting, whilst bearish, has shown a reduction of shorts over recent weeks as data points continued to improve, removing catalysts for further EUR downside.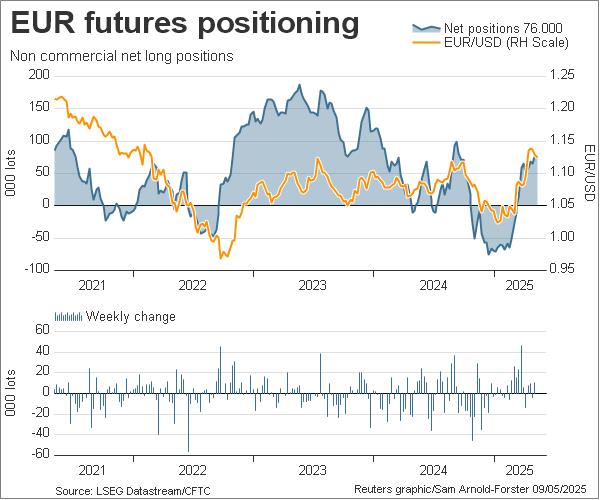 The September meeting will include a lot more information than the previous meeting with the update of the ECB's quarterly forecasts and also a press conference following the meeting.
In summary, not expecting further easing from the ECB this time around but expect a Dovish tone with the promise of more easing to come if needed. The quality of the ECB's forward guidance will ultimately be the key determinant in the currency reaction we see but sense there is room for a spike higher in Euro if markets feel disappointed.
11.20 (GMT) Data & Developments Since 
Following on from the ECB's July meeting, which downplayed risks from Brexit, data since have indeed shown the EuroZone economy to have remained resilient in the wake of Brexit with a broad slew of data printing strongly. Despite a small tick down in August CPI estimates the ECB will likely be relieved by indicator readings since the UK's decision to leave the EU.
Key readings:
July EuroZone Services & Composite PMI's better than expected
July German CPI 0.4% YoY vs 0.3% exp
EuroZone 2Q GDP 1.6% vs 1.5% YoY
EuroZone July CPI 0.9% core YoY July
German 2Q GDP 3.1% YoY vs 2.8% exp
August CPI estimates slightly weaker 0.8% YoY core vs 0.9%
Of the various comments we have heard from ECB officials in recent months the most recent seem the most pertinent, coming from ECB's Mersch, who warned against the use of "extreme measures" with "unacceptable side effects" to help back stop the EuroZone economy. Discussions of the growing inefficacy of central bank policy to achieve the desired affect has been a common theme of markets this year.  So called "helicopter money" has previously been described by ECB chief Draghi as an interesting academic concept but has so far not been discussed by ECB policy makers.
11.00 (GMT) Notes From The September Meeting
At their July rates meeting the ECB opted to maintain policy at current levels with the council concluding that they didn't yet have the information to make decisions.  Draghi noted that the ECB judged that they needed more time to assess the state of market-based inflation expectations though the bank stood ready to act, using all the instruments in its mandate, if warranted.  Referring specifically to Brexit Draghi noted that initial impact estimates should be treated cautiously and Brexit didn't seem to have major impact on the inflation outlook.
Regarding inflation, Draghi noted that levels are likely to remain very low in the next few months but should pick up in 2017-18.  The growth outlook was said to have risks tilted to the downside, largely due to Brexit, though data point to ongoing growth in Q2 albeit it at perhaps a slower pace than Q1.
Discussing some of the other issues facing the EuroZone Draghi noted that it was weak bank profitability, not solvency, that was the problem but that NPLs were indeed a problem that need to be addressed, with a high level of NPLs making banks especially vulnerable to the markets.  The banking sector was judged to have reacted in "fairly resilient" fashion to Brexit and policy measures since 2014 have significantly improved borrowing conditions. Draghi also said it was essential that the bank lending channel continues to function well and that implementation of structural reforms need to be stepped up. Regarding the bank's QE program, Draghi noted that the council judged TLTRO as quite successful.
11.00 (GMT) Welcome to our day's rolling coverage



Hello and welcome to our live coverage of today's ECB Meeting, with Littlefish FX Analyst James Harte. Here are the key details for the day:
European Central Bank Rate Decision September

Thursday September 8th, 12.45GMT1
Current rate 0%, expected unchanged